28 September 2018
From War On Want: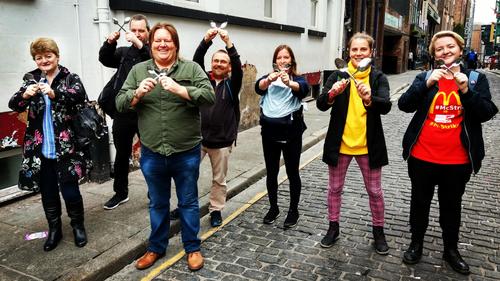 On Thursday 04 October  2018 workers at McDonald's, TGI Fridays and Wetherspoons are going on strike to end poverty wages and demand dignity at work. They are demanding better working conditions across the hospitality sector: £10 an hour, an end to precarious contracts and for their right to a union to be respected.
IWW Couriers Network, IWGB / United Private Hire Drivers and GMB drivers and couriers have also called for action on the same day by Uber Eats and Uber drivers to end poverty pay.
Precarious workers face the constant threat of losing the hours they need to survive. Showing solidarity and mobilising community support is important as it puts pressure on their employers to respect their rights at work, including the rights to strike and join a trade union.
Rally In Leicester Square – London (11am) 
McDonald's, TGI Fridays, and Wetherspoons workers are getting together for a rally in Leicester Square to demand change across the hospitality industry. If you can attend, please do bring flags, banners and spoons.
Support Striking Workers Near You.
Some of the striking workers have called demonstrations and rallies near where they are striking.  If you live near by please do go along to show your support.
Brighton Midnight Picket 00:01-01:00 04 October Facebook Event
Brixton – London 0800-0900 Morning Picket Facebook Event: 
Leicester Square – London 11:00 – Facebook event: 
Brighton Evening Rally 18:30 – Facebook event
Show your Solidarity on Social Media
You can show your solidarity with Wetherspoons strikers by 'crossing spoons'. Take a picture of yourself, or a group holding crossed spoons and share it on social media with the hashtag #SpoonStrike – You can also use the hashtag #FFS0410 
Get Updates on Social Media:
You can follow the events on social media:
Twitter:  
Facebook: www.facebook.com/fastfoodrights/
Hashtags: 
#FFS410 - the hashtag for the day in the UK
#FastFoodGlobal - to follow actions taking place around the world.
Join An Action: (Details tbc)
Uber Eats Strikes: 
Bristol- UberEats strike
Cardiff- UberEats Strike – meet at 16:00 Queens St McDonald's
GlasgowUberEats strike

12:00 midday rally @ George square
18:00 evening rally @ George square

London:Uber Eats Strike / Uber Demonstration: Meet 5pm Uber HQ at Aldgate Tower.
Newcastle: Uber Eats Strike
Plymouth- UberEats Strike
Solidarity Actions: 
Aberystwith - Solidarity Action (Details tbc)
Birmingham - Solidarity Action (Details tbc)
Bradford- Solidarity Action (Details tbc)
Manchester - Solidarity Action (Details tbc)
Sheffield - Solidarity Action (Details tbc)
Swansea- Solidarity Action: (Details tbc)
Wrexham - Solidarity Action (Details tbc)
Donate to the Strike Fund: 
You can donate to the McDonald's Workers Strike fund here: