29 June 2012
Miners in Spain are on all out strike against a devastating attack on their industry and the entire mining region. Their dispute is also an inspiring example of how to fight back.
For an idea of how and why the miners are fighting – and their very militant tactics – watch this amazing speech by striking Asturias miner Segundo Menendez Collar, given at the Unite the Resistance conference in London on 23 June.
Below the video is a model resolution for union branches and organisations, and bank details so you can make a donation.
The miners' fight is part of the Europe-wide fightback against austerity and attacks on workers. They deserve our solidarity and support. Help the miners win!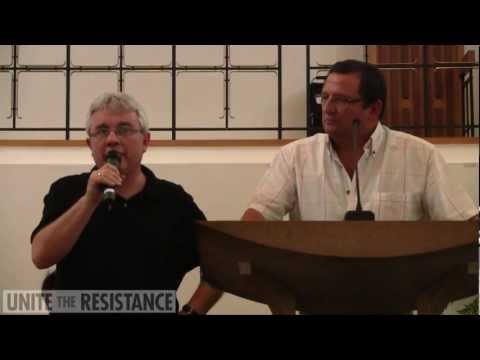 Pass this resolution
This union/branch/region notes
1. All 8,000 Spanish miners in Asturias, Leon, Galicia and Aragon have been on all out indefinite strike to defend their jobs and communities.
How to donate
2. Hundreds of miners have been underground for over a month occupying their pits to stop them being closed down.
3. The conservative Spanish government under Rajoy is refusing to renew the mining subsidies. If he is successful the result will be the destruction on of the Spanish mining industry.
4. The amount needed to pay the mining subsidy is 0.01% of the amount given to bail out the Spanish banking system.
This union/branch/region further notes
1. The Spanish miners' strike is reminiscent of the British miners' strike of 1984-85.
This union/branch/region resolves
1. To send a message of solidarity to the Spanish miners. Email: bmcolorado@industria.ccoo.es
2. To donate £…….. to their strike fund.
Updated: 2 July with email address for miners